Walk the last trek of the Tabletop Track in Litchfield National Park from Walker Creek to Florence Falls, pausing for a dip in pristine waterholes.
Starting from the car park, and make sure you carry swimming gear – you can swim in the creek near the picnic area or at the shared camping and swimming hole at the end of the walk.
As you hike alongside crystal clear Walker Creek, pause for a refreshing dip (or three!) in one of the many pristine waterholes and enjoy the tranquillity of this amazing national park. Spot local wildlife including wallabies and possums, or listen to some of the curious bird calls from the variety of birdlife that also inhabit this forest area. Secluded camping sites are nestled along the creek, so pack the tent and make a night of it.
Walker Creek is the best kept secret of Litchfield National Park. This would have to be one of the best campsites in any national park. If you can get a site here you will have it all to yourself.
Walker Creek can be found near the northern entrance of Litchfield National Park. The car park is close to the road, and this is where you have to register for a campsite. There is a box to put your (small) fee into, and a book where you can reserve your spot.
Near the car park are a couple of picnic sites with tables and barbecues, and you can hop in the creek to cool down, but you can't camp here. From here you have to walk. And yes, that means carrying all your stuff – tent, overnight gear, food etc, as you leave your car in the car park and walk to your chosen campsite alongside the creek.
There are eight sites all up along nearly two kilometres.
The walk follows the creek although you can't see the creek for most of the way. Every now and then you come to a turn off with a sign saying "Camp Site 1" (or 2, 3…). There are bush toilets located near site 6.
Following your campsite signs, will lead you to a clearing near the creek. You find a big table, a big wood fired barbecue and enough flat ground to put up a couple of tents, so you can share a site with friends.
You also find your own private little swimming pool with your own private little waterfall!
Every campsite is located at a set of rapids in the creek, with a pool above or below it. Go for a rinse in the evening, listen to the creek as you sit at the fire or fall asleep and then jump in the pool again to wake up in the morning…
If you want to spend a night camping in Litchfield National Park and you are not into crowds, this is the place to go. Good luck with getting a site!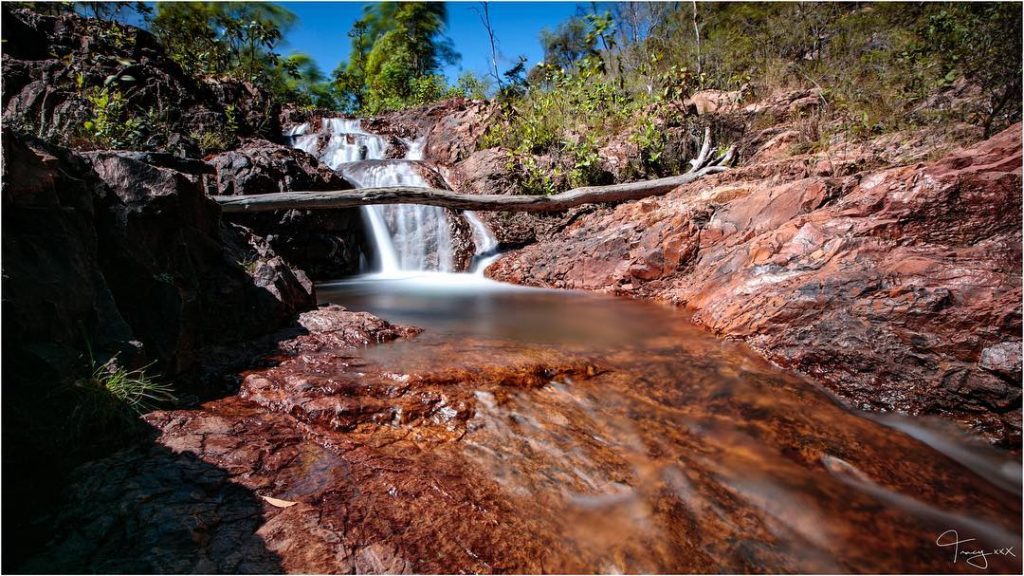 Best Seasons:

May, June, July, August September, October

 

Popular Location:

Batchelor, Darwin, Kakadu
WALKER CREEK

EXPERIENCES

.