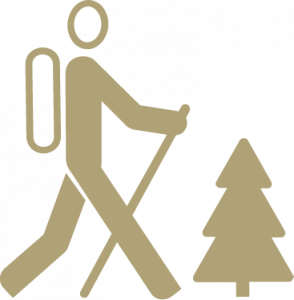 Strap on your most comfy hiking boots and come and explore the best of Litchy. Filled with epic trails that lead to or pass through amazing views, Litchy trails are a must do!
Ready to jump on the trail? Come on!
Shady Creek and Florence Falls
This 1km Trail takes you along a shady walk that it is named after. Enjoy the sound of the water while walking in the beautiful monsoon forest. This walk is an alternative to the plunge pool. The walk has 160 stairs. Be sure to have your water ready if you are not used to hiking 
Length: 1km
Duration: 30 mins
Grade: 3 (Moderate difficulty)
Style: One Way
Start: Florence Falls picnic area
End: Florence Falls picnic area
Florence Creek Walk 
This gorgeous walk follows Florence Creek between Florence Falls and Buley Rockhole. It takes about 1.25hrs to complete and is a fairly easy walk that even the kiddos can enjoy. 
Insider tip: Park your vehicle in one of the car parks at Florence Falls as parking is limited at Buley.
Length: 3.2km
Duration: 1.25 hrs
Grade: 2
Style: Return
Start: Upstream picnic or Buley Rockhole.
End: Upstream picnic area
Tolmer Falls Walk 
Good news!  This is an accessible walk and you can easily see the signs as you go along the walk.This is a very pleasant alternative walk back to the car park from the lookout. It takes you through the Top End sandstone country and along Tolmer Creek back to the lookout! You can also enjoy a picnic or but you cannot swim when you get to the falls.
Length: 1.6km
Duration: 45 mins
Grade: 3
Style: Return
Start: Tolmer Falls Lookout
End: Tolmer Falls Lookout
Wangi Falls
Starting at the Wangi Falls plunge pool. It is a walk that talks you through the lush Litchy rainforest.  The walk is best known for the picturesque views and epic plunge pool. The 3.1 km track that takes you up over the falls and back to the postcard-perfect swimming hole. Since swimming is not allowed above the falls this makes it an exciting experience as the reward is at the bottom of the hike. 
PS: Swimming is not open all year round.
Length: 1.6km
Duration: 45 mins
Grade: 3
Style: Return
Start: Wangi Plunge Pool
End: Wangi Plunge Pool
Walker Creek
​​This 3.5 km return walk is simply spectacular! You can swim in the creek near the picnic area or at a shared camping and swimming hole at the end of the walk. It is ideal for both hiking novices and seasoned ones.
PS: Please respect the privacy of campers along the way.
Length: 3.5km
Duration: 2hrs
Grade: 3
Style: Return
Start: Walker Creek Car Park
End: Walker Creek Car Park
Greenant Creek
Start at the bridge across Greenant Creek. Following the creek upstream, this is a steep climb to Tjaetaba Falls. It is ideal for swimmers as it leads to a tiny pool above the falls where you can enjoy the cooling dip after a moderately challenging hike.
Be sure to bring drinking water on this hike as you will need it.
PS: The plunge pool and the area downstream of the falls is a sacred site, so you should not swim there.
Length: 2.7km
Duration: 1.5 hrs
Grade: 3
Style: Return
Start: Greenant Creek
End: Greenant Creek
​​Tjaynera (Sandy Creek)
Starting at the car park this gorgeous trail tracks along the cree and passes a hillside full of cycad palms before reaching a gorgeous plunge pool where you can cool off after your hike.
Length: 3.4km
Duration: 1.25 hrs
Grade: 3
Style: Return
Start: Sandy Creek Campsite
End: Sandy Creek Campsite
Lower Cascades
Start at the Wangi Falls Car park, this is the fastest way to the Cascades. This shady walk is ideal for those who are avid hikers as a grade 4 hike. It is however closed in the Wet Season due to flooding and an increased risk of crocs.
Length: 2.6km
Duration: 1.5 hrs
Grade: 4
Style: Return
Start: Wangi Falls Car Park
End: Wangi Falls Car Park
Upper Cascades
This is a 3.3km loop in the Dry Season and a 3.6km return in the Wet Season. Starting at the Wangi Falls car park. This grade 4 return walk takes you up to the epic Tabletop Plateau where several lookouts have sweeping views of the lowlands below. The walk is difficult mostly because it is exposed to the sun so be sure to bring water and sunscreen!
Length: 3.3km
Duration: 1.25 hrs
Grade: 4
Style: Return
Start: Wangi Falls Car Park
End: Wangi Falls Car Park
Long Trail
The Tabletop Track is one of the most awesome tracks in Litchfield National Park. It is a 39km track that is best tackled by experienced hikers as it is a long bushwalk that allows you to experience the remoteness of the Litchy jungle.  The walk takes you through the Litchy jungle along the lovely creeks and waterfalls that are a photographer's dream! This hike has multiple starting points so you can pick your ideal starting point. You can also use the walk to link to shorter sections of the trail. There are link walks at Florence Falls, Greenant Creek, Wangi Falls and Walker Creek.
Length: 39km
Duration: 4 days
Grade: 4
Style: Circuit
Start: Several Options
End: Several Options