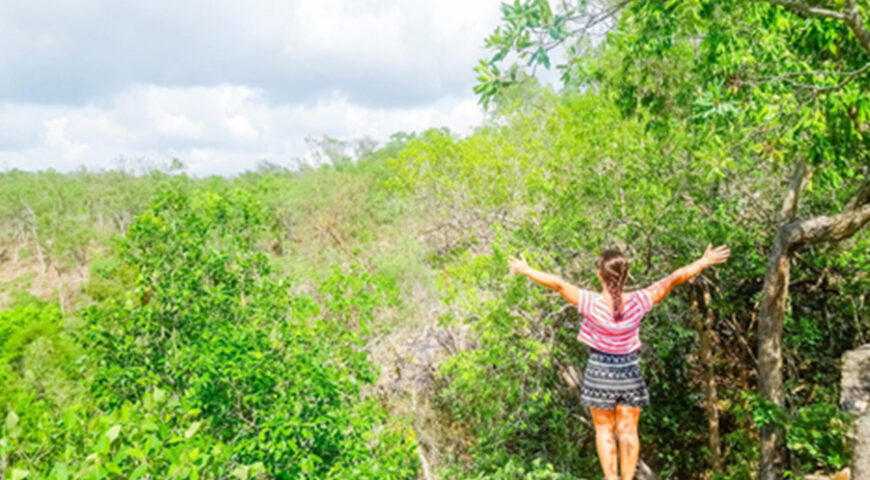 A Guide to Litchfield for the Guideless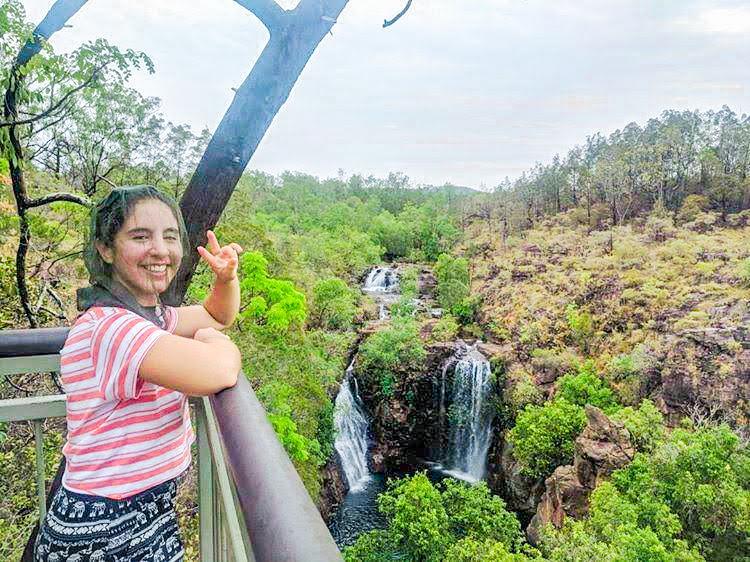 Hi! My name is Carolina and I am a German backpacker, who has been very lucky to call Australia her home for the last two years. In October 2018, I decided, that my Australian itinerary wouldn't be complete without a visit to Darwin. I was about to join a road trip departing from Broome towards Perth, thus I concluded, if I was heading north anyways, I could as well go all the way and bada bing bada boom, I found myself booking a flight to the capital of the Northern Territory.
To be honest, I didn't plan anything in advance. I only reached out in some backpacker groups on Facebook and found a few girls, who were happy to explore the area with me. Given certain circumstances, we eventually settled on visiting Nitmiluk and Litchfield National Park.
Litchfield National Park offers a wide range of interesting attractions and activities, especially if you are budget-conscious and pressed for time!
Being easily accessible with your everyday car, it presented a great opportunity for us to rent our own vehicle and explore the park at our own pace.
The adventure began in the National Park's outskirts when we stopped at the Magnetic Termite Mounds. It is definitely one of Litchfield's most unique attractions, leaving me speechless at the sight of the countless mounds rising up to 4m above the ground as far as the eye can see. Hard to believe, that tiny termites were able to construct these impressive cathedral-like structures; tiny but mighty is the best way to describe this phenomenon!
To be as efficient as possible, we planned to drive to Wangi Falls first (as it was the furthest away attraction on our list) and then work our way back towards the campsite at Buley Rockhole, include a few hikes along the route and cool down underneath magnificent waterfalls afterward.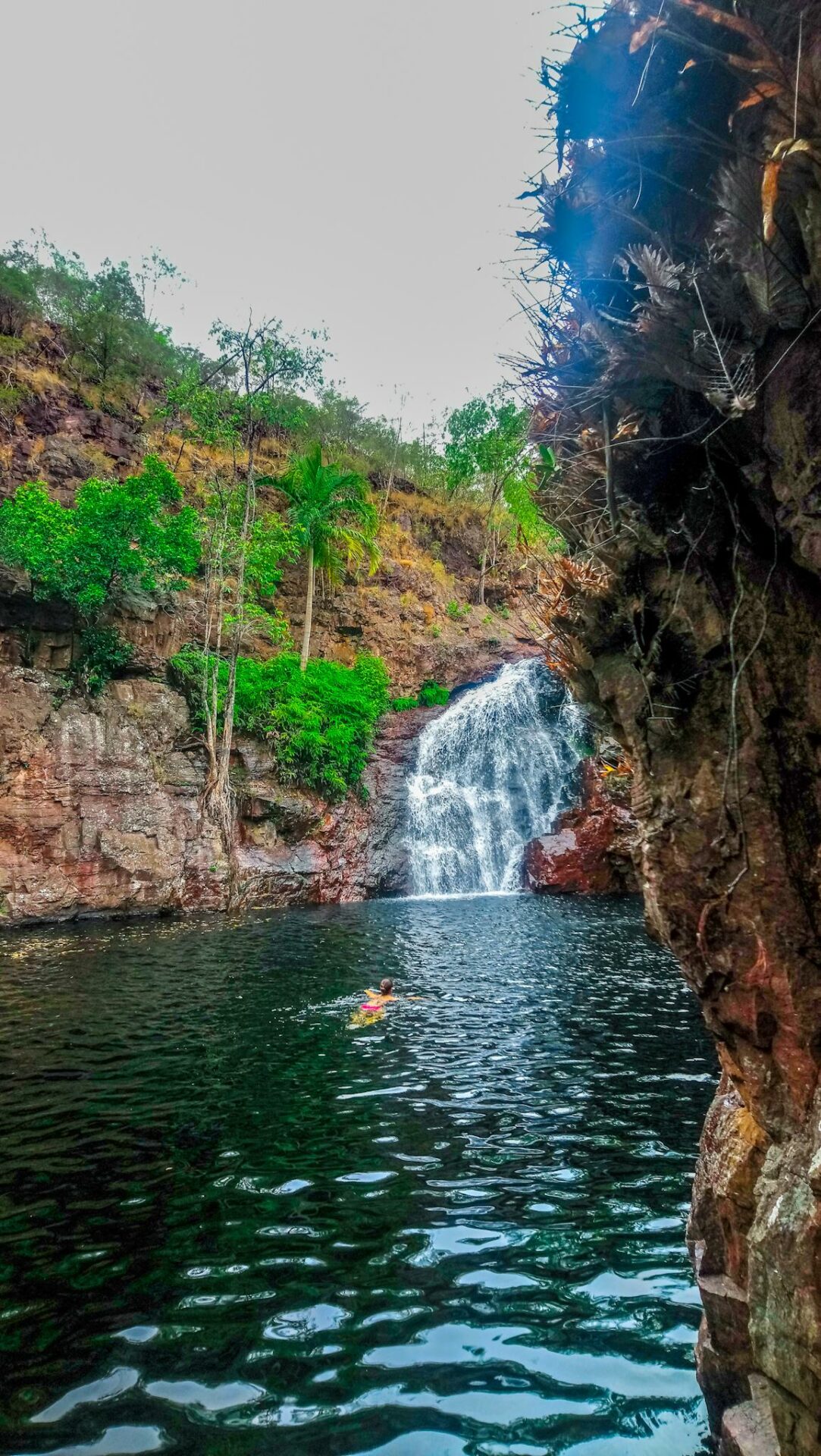 But as fate would have it, the trip started on a Monday and since Mondays have the tendency to prove their mondayness, we were surprised by the very first afternoon showers of the wet season. Hence we spent a few hours sitting at the great undercover picnic area of Wangi Falls.
Nevertheless, making the most out of the remaining day proved itself to be quite simple: Litchfield National Park is a great destination under most weather conditions or if you simply are not the most enthusiastic hiker, due to most attractions being located relatively close to their corresponding carpark. Tolmer Falls, as well as the stunning Florence Falls, belong to this category. We enjoyed fantastic views and a refreshing swimming session between magnificent twin falls regardless of the rain.
I am not going to lie, the night was tough due to high temperatures and improper camping equipment (this one is on us!). The campground toilets had run out of water in the morning and a huge frog had claimed one of the metal bowls for itself. Nevertheless, I believe this campsite to be the best eco and budget-friendly option and keep in mind, that it is simply not possible to provide an endless water supply for the number of people staying there!
Furthermore, who needs a shower anyways, if you can take a bath in beautiful natural rock pools?
We started the day off with a little hike to Tjaetaba Falls, leading us uphill through a piece of rainforest, where a bushfire seemed to have raged not too long ago. The destination consisted of a rock plateau crossed by a creek system of small waterfalls and rock pools and overviewing the immense greenness of Litchfield.
Our trip found a perfect ending with a swim in the Buley Rockholes before heading back to Darwin.
Despite the rain and time pressure, we were able to see so much in only two days and the trip was very well worth it!
With hindsight, I recommend investing in a 4×4 car in order to explore more sights off the beaten track, like the Lost City.
Make sure to bring lots of water, sunscreen, and a head net to keep the flies away and schedule longer hikes for the cooler morning hours!
In contrast to Kakadu National Park, the waterfalls of Litchfield have a constant water supply and the park entry is free, which makes it a great worthwhile destination if you travel at the end of the dry season!
I will be back for sure to explore more of this gorgeous piece of nature!
Bio & social media links
Carolina Scheuch is a 21-year-old german content creator with a huge passion for conscious travel.
By drawing on personal experiences from two years of travel, her goal is to provide travel guides with a special emphasis on authenticity and embracing different cultures.
Carolina's tips and tricks are aimed at empowering and inspiring others to enjoy and sustain the beauty of this world.
Follow Carolina on Instagram @littleplantbasedglobetrotter.