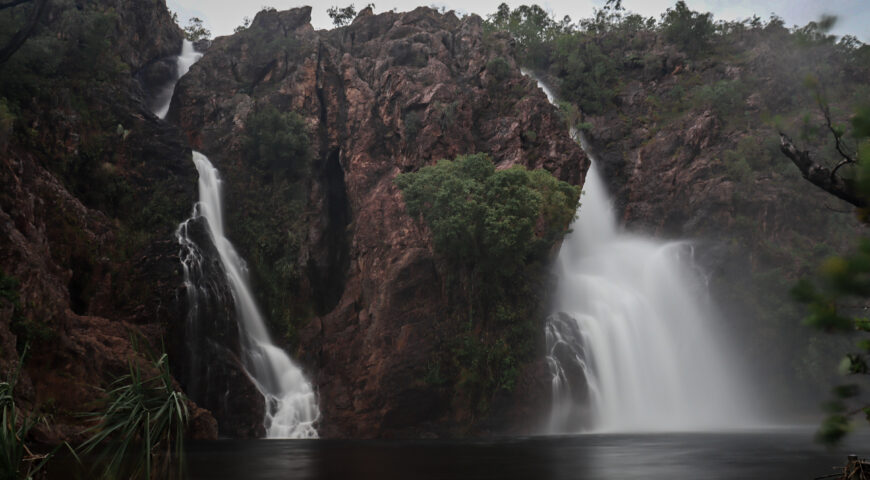 Breathtaking Beauty: Wangi Falls in Litchfield National Park
Located in Litchfield National Park, Wangi Falls is one of the most popular tourist attractions in the Northern Territory. Situated in an area with thick and lush monsoon rainforest, Wangi Falls provides visitors with a place to picnic and swim. Guests are granted comfort and convenience within a popular and iconic site. Wangi Falls' plunge pool is often praised as postcard perfect!
What is Wangi Falls? What are some activities I can do there?
Wangi Falls is a breathtaking twin waterfall with a huge plunge pool at the bottom. The site's refreshing features make it the perfect location for cooling off after a long day at the park. Sit in the freshly manicured lawns near Wangi Falls and watch as the water cascades over the falls. Since Wangi Falls is an extremely popular tourist destination, most people stay in the main visitor area for less than two hours. Instead, try exploring the surrounding area! However, make sure to stay on marked tracks. 
Activities encouraged here are swimming, sightseeing, picnicking, going on short walks, taking beautiful photographs, camping, appreciating nature, and of course, relaxing. Wangi Falls is a major site with a high standard of access and facilities.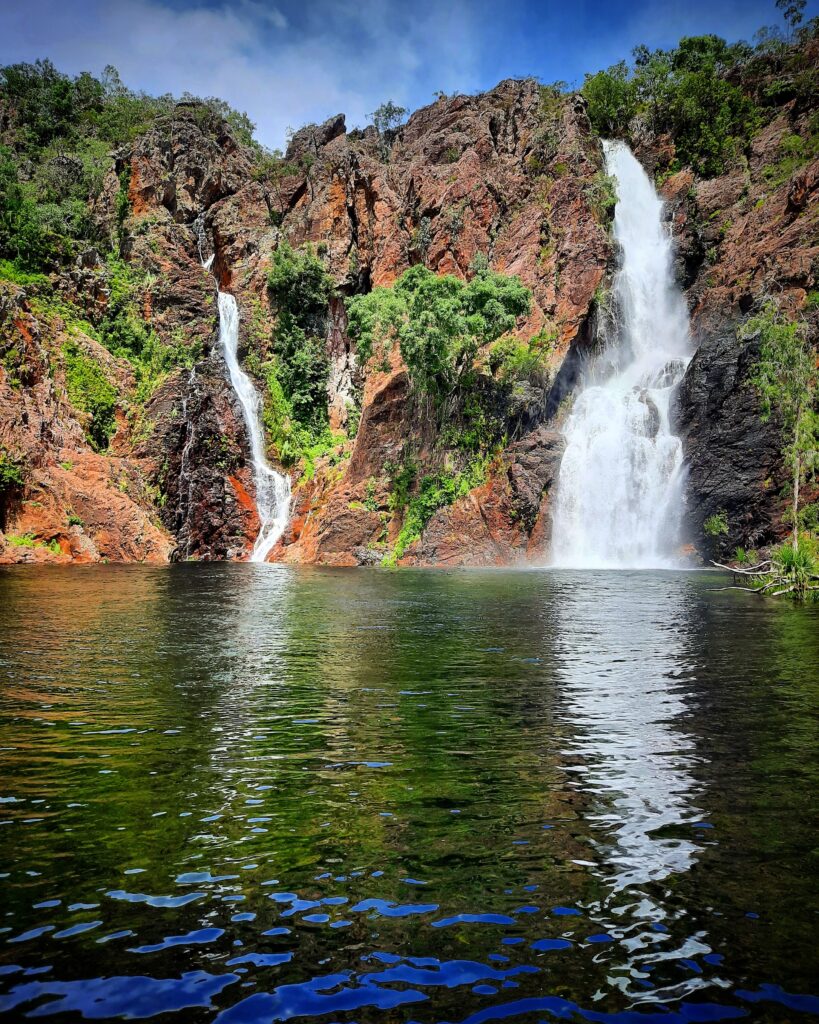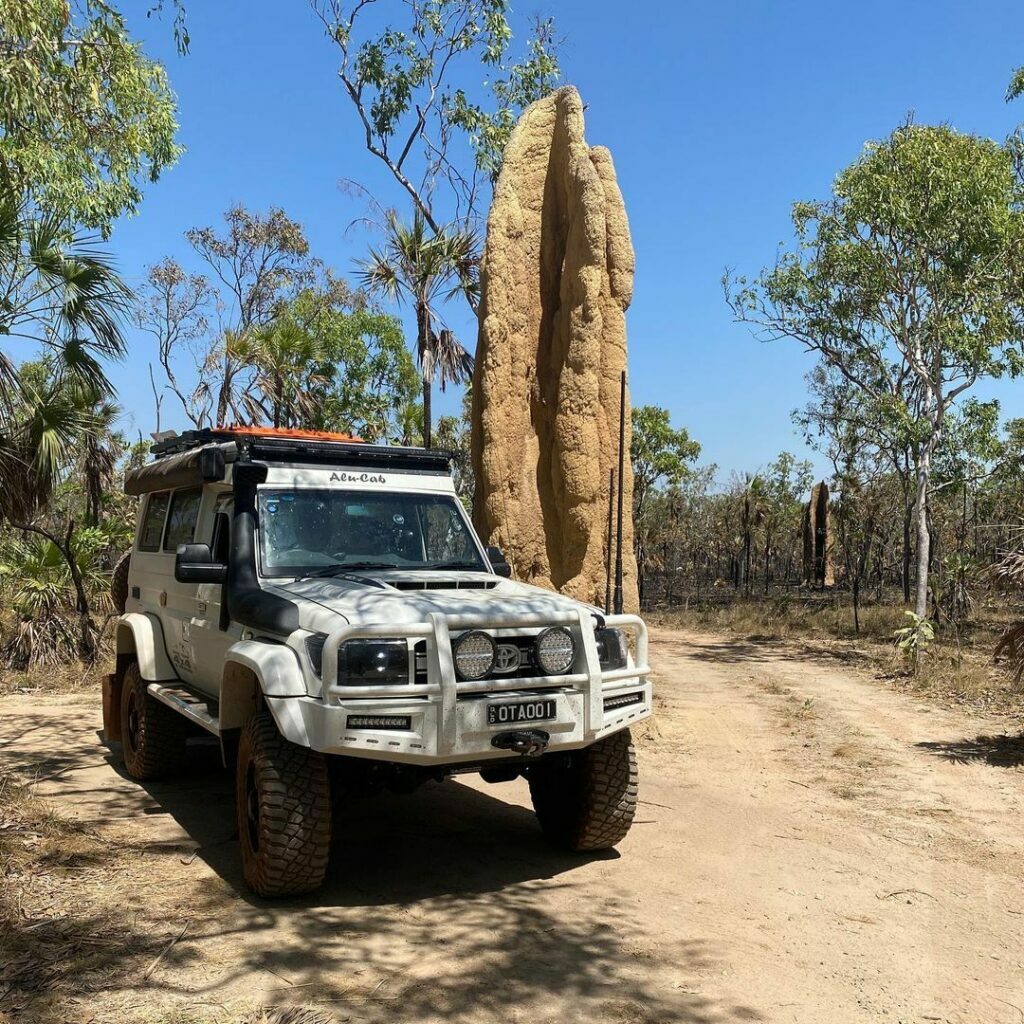 Wangi Falls: Location + How to Get There
Wangi Falls is located near the western boundary of the park, about 130km away from Darwin (a 1.5 hour drive). It is relatively close to Greenant Creek (9min/9.5km drive) and Tolmer Falls (12min/12km drive), so stop at these two sites before completing your trip to Litchfield National Park. Take Tiger Brennan Drive/A15, Elrundie Avenue, Channel Island Road, Jenkins Road, and Finn Road to Cox Peninsula Road/B34 in Berry Springs. Then, take Litchfield Park Road/B30 to Wangi Falls in Litchfield National Park. Finally, drive to Wangi Falls. 
There is a 1.6km looped grade 3 walk around Wangi Falls. This track takes about 45 minutes to complete. Another track that is 3km long takes you over the falls and to the car park. There are also several other walking tracks that an avid hiker can enjoy. Stop at the main Wangi Falls plunge pool for a perfect Instagram opportunity.
Wangi Falls Accessibility
Wangi Falls is mainly accessible by 2WD with high-standard tracks. There is barrier-free disabled access to key features and facilities in the main visitor area. The Wangi Falls Walk from the viewing platform across the escarpment is of moderate standard with some narrow and rocky sections. Wangi Falls is often closed during the wet season (October to March) as flooding often happens during this season. The currents in the plunge pool during the wet season can be fast and dangerous. To access Wangi Falls and Litchfield National Park (if you're not from the NT), you will need to purchase a parks pass. For locals from the Northern Territory, access is free. However, camping fees apply to overnight campsites. At Wangi Falls Carpark, there is enough space for 52 cars and 25 spaces for coaches, caravans, and long vehicles.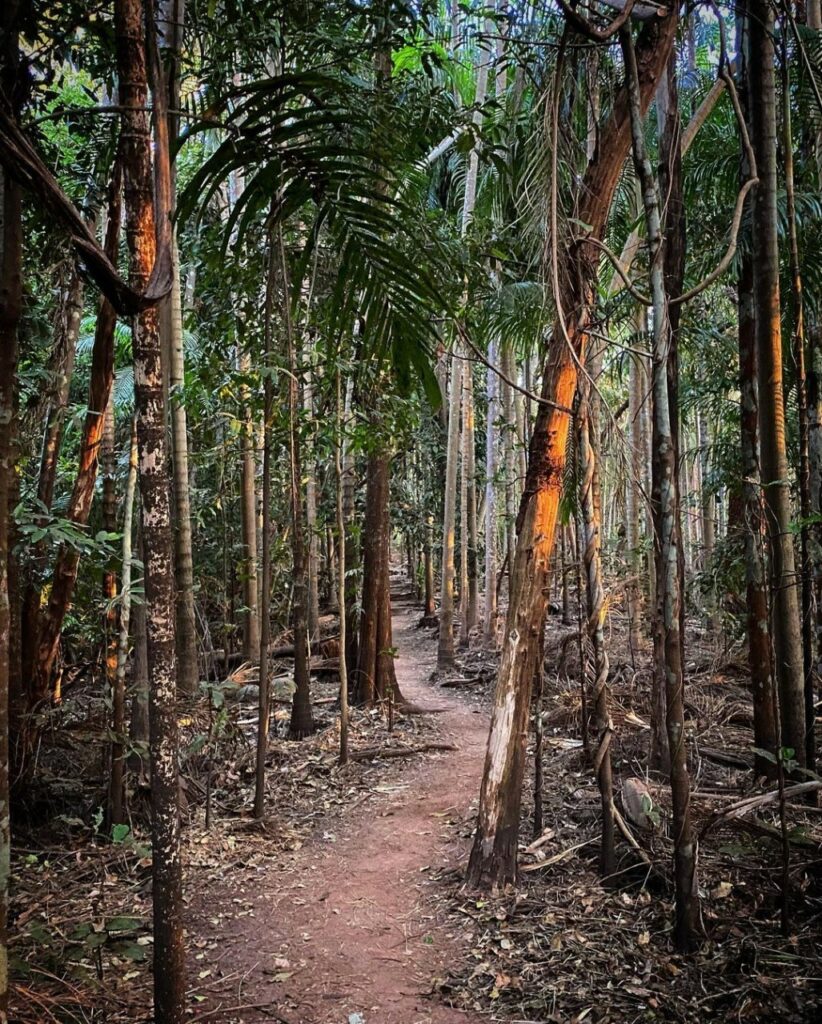 Get your daily fix of Litchfield National Park by following us
Be the first to get travel hints and local recommendations.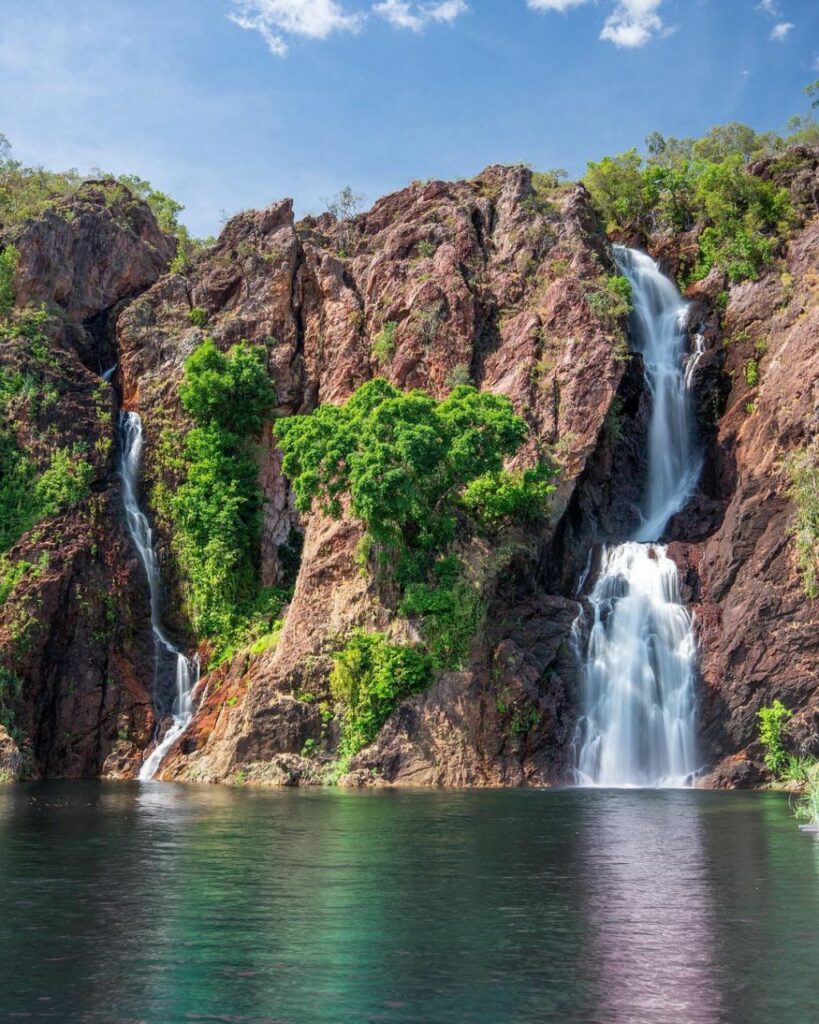 Wangi Falls Accommodation + Experience
Want to experience Wangi Falls as a part of a guided tour? We highly recommend the
Litchfield Wanderer
that Ethical Adventures provide. The team pick you up from Darwin and guides you to Wangi Falls as well as other fantastic Litchy sports such as Florence Falls, the Magnetic Termite Mounds and the serene Tabletop Swamp.
You can visit Wangi Falls as a part of a self-guided one-day trip to Litchfield National Park, on the way check out Greenant Creek and Tolmer Falls. Greenant Creek is merely a 9-minute drive away from Wangi Falls (9km). After visiting Greenant Creek, check out Tolmer Falls, a 12-minute drive (12km) away from Wangi Falls. 
Wangi Falls Camping
Camping is available all throughout Litchfield National Park. The closest campground to Wangi Falls is Wangi Falls Campground. At the Wangi Falls Campground, you can find hot showers, flushing toilets, garbage bins, picnic tables, cooking and cleaning facilities, BBQs, fresh water, a public payphone, a cafe, and wifi. Make sure to book the campground in advance at the Northern Territory's website. Some other campgrounds inside Litchfield National Park are Florence Falls 2WD/4WD Campground, Walker Creek Campground, Surprise Creek Campground, and Tjaynera Falls/Sandy Creek Campground. You can find the full round up here. Campsites outside of Litchfield National Park include Pandanus on Litchfield, Top End Safari Camp, Batchelor Holiday Park and Banyan Tree.
Darwin is 130km away from Wangi Falls, which is about a 1.5 hour drive. There are plenty of sleeping options available on Airbnb in the Darwin area. If you'd prefer to stay indoors, you can stay at the Litchfield Tourist Park, just outside the Litchfield National Park boundary in Batchelor.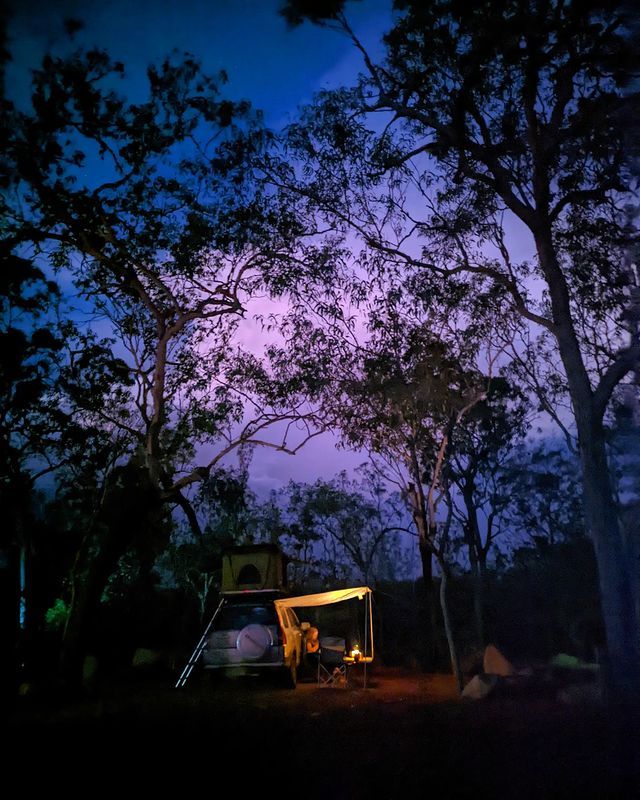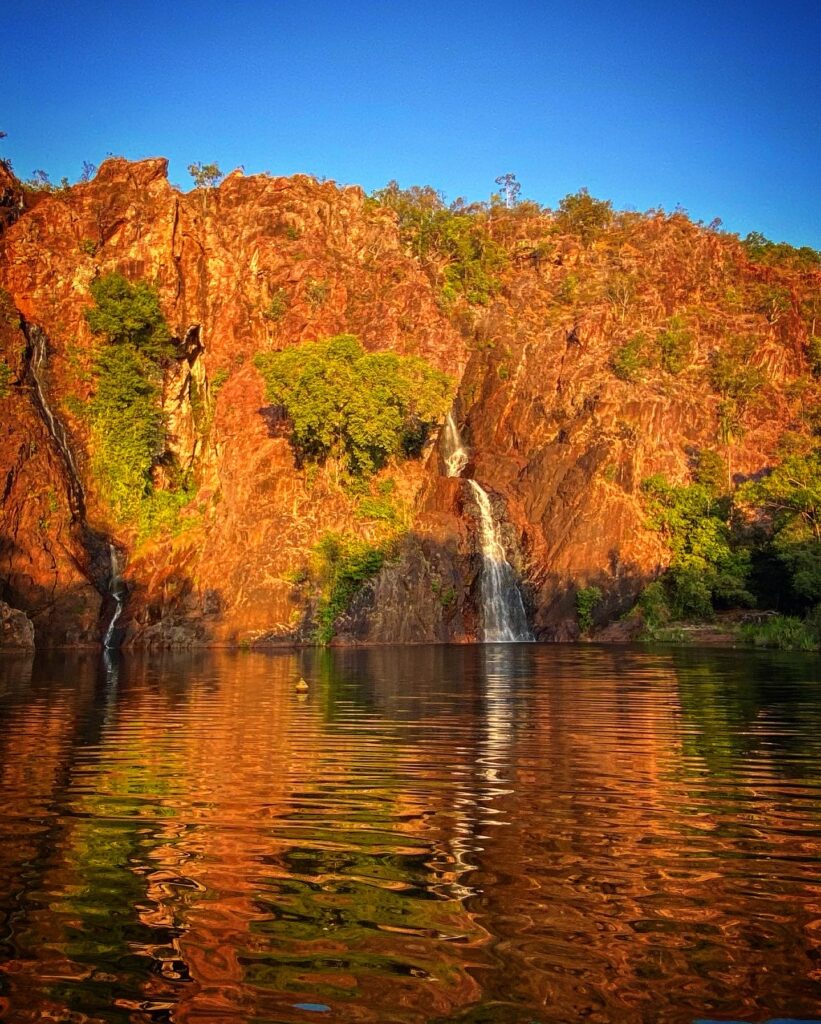 Wangi Falls Safety Warning
Swim only in designated areas. Observe all posted safety signs. Wear suitable clothing and footwear. Carry a first aid kit. Note locations of Emergency Call devices. Make sure to check the
government website
for pre-visit information because hazards are communicated both on-site and in the pre-visit information. Glass containers are not allowed within 10 meters of designated swimming areas, so please leave the glass containers in your car! Take amazing pictures and a have relaxing swim at Wangi Falls in Litchfield National Park!
Litchy is filled with epic spots ready for you to explore. We'd love your feedback on this page – please comment below if you've been to Litchfield National Park or visited the stunning Cascades (upper or lower)! Get your daily fix of Northern Territory beauty by following @litchfieldnationalpark on IG or on FB here.
For even more Territory content (we can't get enough) check out @northerhq on IG. Please sign up here to join our newsletter list to be the first to get travel hints and local recommendations.
*Cover image by @wander.withsam on IG.